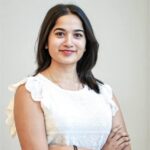 It's August 2021. In a 25-second video on social media app TikTok, Disha Nayak shares her mother's recipe for homemade alfredo pasta. Watching the video, you might assume that she is like so many of us at that moment, craving comfort food and connection and spending way too much time on her phone during a global pandemic.
You would be wrong. Disha's world was about to change, and she was ready for it.
The path to Trinity
At age 12, Nayak assumed that tennis might be her calling. She was already playing at a national competitive level and was passionate about the sport. She attended an athletics-based high school but prioritized grades. Her sister, Shreya Nayak '17, was a Trinity student, and as the younger sibling, Disha saw an opportunity for herself at the College.
"Trinity is the best in terms of resources, professors, events, workshops—it was my top choice. When I got in, I tried my best to make the most of those resources," she says.
Forward thinker
With her focus now on academics, Nayak entered the Margaret MacMillan Trinity One program and went on to complete a double major in International Relations and Economics with a minor in Computer Science. But she immediately sought additional outlets for her boundless energy.
While at Trinity she founded the Trinity Women in Business Association, connecting students with senior leaders and mentors in the industry for networking and internships. She also joined the U of T Autonomous Vehicle Research Team at a time when many of us still hadn't wrapped our heads around the idea of cars driving themselves. She later led the team to first place in the international GM SAE autonomous vehicle design competition two years in a row.
Complementing her studies were valuable experiences through Trinity One internships with the U.S. Consulate General, the Scotiabank Cloud computing team, and Google. And of course, she also played U of T Varsity tennis.
"I had an incredible experience at Trinity," says Nayak, who doesn't even mention the fact that a global pandemic locked down the world partway through her fourth year.
The pasta recipe that started it all
Like many of her peers, Disha spent a lot of time online when COVID-19 shut down the Trinity campus, and the rest of the world, in March 2020.
She started posting videos on TikTok, a popular social media video app, sharing tips about studying at home. During lockdown she cooked more, and started posting simple recipes for tasty dishes students like her could make at home, using the handle "@feeedmi." Views of her videos started to grow as more people shared her posts.
Then came the pasta alfredo video in August 2021. While some of Nayak's posts had generated an impressive two or three thousand views, the carb-tastic recipe went viral overnight, becoming so popular that it was shared exponentially across the internet on various social media platforms in days. To date, it is Nayak's most popular video, with nearly 32 million views (every click on the video counts as one "view").
From creator to influencer to disruptor
Being a social media creator started as a "side gig" to Nayak's day job as a digital marketer at Google, which she joined after graduating from Trinity in June 2021.
Even for industry experts, the how and why of what makes a social media post go viral remains "a bit of a mystery," says Nayak. She points to three important elements of every successful post: a good hook—"you have three seconds to capture their attention"; a personal story; and authenticity—"it's the only way to truly connect with an audience."
Nayak seems to possess that "secret sauce" that keeps viewers coming back for more, even requesting that she post specific recipes or types of food. As her social media channels grew in popularity Nayak became an "influencer," a social media personality who has gained a large following and credibility in a particular area. And social media influencers are becoming a big part of the marketing strategies for brands worldwide. A dairy company can reach more targeted customers through an influencer using their cheese in a TikTok recipe, for example, than through a conventional television commercial or print ad. Nayak points to one recent survey that says almost 60 percent of consumers said they purchased a product because they saw an influencer using it.
This is where Nayak started to see a service gap in the market and recognized an opportunity.
For a brand that wants to connect with influencers, finding the right people is the online equivalent of "cold calling," with brand employees combing the internet for content creators and sharing invitations to connect in the comments sections of posts. "And for creators who want to become influencers, it can be difficult to connect with the right people," Nayak says.
Enter Gigl, a software platform powered by AI (artificial intelligence) that bridges the gap between brands and creators, founded by Disha with two colleagues. (The name is inspired by the "gig economy" it serves.) Here's how it works: Creators join the platform for free. Brands pay a monthly subscription fee to access the platform, which uses an AI algorithm to match brands with creators who have established online followers, or communities, in their target markets. Gigl is a one-stop shop for creator marketing, whether a brand is launching a paid ad campaign, merchandising partnership or creator event. Gigl also uses generative AI to eliminate paperwork for brands and uses AI to analyze and report on the performance of the brand's digital marketing efforts.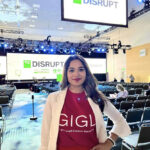 "There are over 50 million creators around the world posting amazing content and building incredible communities online," enthuses Nayak. "I started Gigl to help them earn income from the value they're building."
And in making that leap, Nayak went from influencer to disruptor—a powerful player in the new technology industry who is introducing new ideas to spur on positive change. To date, Gigl has helped 100 brands connect with over 1,500 influencers in North America.
Standing out and standing up
Nayak and her two business partners (both of whom she met at U of T) pitched the Gigl concept to investors at a "Shark Tank-style" meeting and received enthusiastic support. The business officially launched in July 2023 and has grown significantly since then.
Nayak is a frequent speaker at high-profile tech conferences including Collison, Idea Lab and Tech Crunch, often wearing her signature red or another bright colour. "Being a woman founder in the AI space means often being the only woman in the room," says Nayak. "Just because you are a woman doesn't mean you are any less deserving of the position you are in. You have to own it, stand out, be confident, and believe in your mission and vision for your business."
Entrepreneurial by nature and nurture
"You must have it in you and believe in yourself. Entrepreneurship is not an easy journey but it's a highly rewarding one," says Nayak of her drive to learn and create. She credits her parents with modelling entrepreneurship at home: They built a successful global consulting business from the ground up, helping companies to land and expand in Canada and internationally. "I had their mentorship and I learned how to persevere from them," she says.
Tennis, she adds, also taught her to go after what she wants: "Tennis is a single player sport. It's all up to you to make it happen. That Wayne Gretzky saying, 'You miss 100% of the shots you don't take' is always in my psyche," she says. "Every day I want to start something."
Giving back to Trinity
Nayak is still creating and posting one to two videos per week on her feeedmi channels. Passionate about her Trinity experience and excited about supporting other Trinity students, she also found time to participate in the first alumni mentorship event at Trinity in September 2023. For students who want to pursue careers in new technology, her response is simple: "If you don't do it, who will? You can, and you will do it. Have confidence in your vision."
By Jennifer Matthews